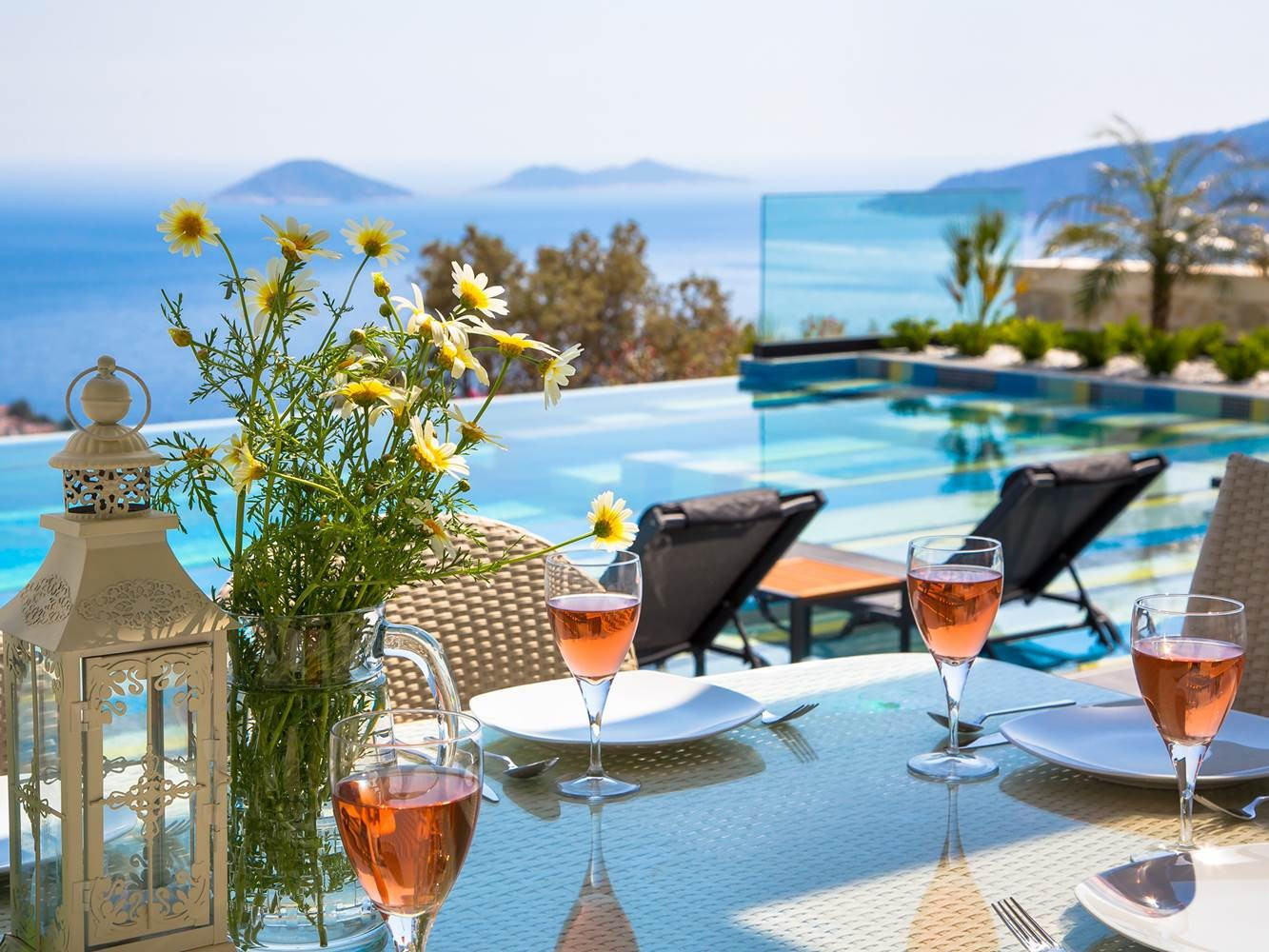 Villa Rental Shortcut
Rental Villas in Kas, Kalkan and Fethiye
Featured Villas
Holiday Villas We Choose For You
Holiday Destinations
Regions Of Our Holiday Villas
Villa Types
Villa Types Separated By Their Features
Kaska Villa
Villa rental shortcut
Perhaps the most enjoyable way to take the tiredness of the whole year is to rent a villa. Have ever you tried to make your holiday in the villa? Would you like to feel the comfort of your home on holiday? We have started to expand our service in the region of Kaş and Kalkan. Wake up to a morning view of the sea, watch your children spend a pleasant time in the garden of your villa with private pool, taste the taste of the BBQ's burned by watching the sunset with your friends, cool off in the pool with the warmth of sunbathing in the day, enjoy the unseen pool on your honeymoon, enjoy the indoor heated pool in winter, enjoying the landscape and rain; A lot of different emotions like present in this holiday sense. As Kaska Villa family, our goal is to offer you a selection of villas starting from the Kas and Kalkan regions where we are local; to offer an amazing holiday in this beauty on earth.
Guest Reviews
Guest Reviews Of Our Villas
Villa Belkız
Nataly
İt was a great holiday. Great view and villa. We felt like our home and more. It's unbelievable Thank you Kaska Villa.
Villa Kristal
Ferdi
Çok keyifli bir tatildi , tekrar görüşmek üzere Kaska villa ☺️ Isıtmalı havuz bi harika
Villa Seboş
Fahri
Genis ailemin, geniş villası. Hersene Buradayız ınsallah, denız karşı masa tenısı oynamayı çok özledim.
Villa Belkız
Menderes
güzel birtatil geçirdik manzara güzel villa güzel evsahipleri daha güzel tereddütsüz gidebileceniz bir yer.
Villa Belkız
Serdar
Geçen kasımda balayı için gelmiştim. Nezihi bey çok yardımcı oldu ve ısıtmalı havuz harika. Manzarada denemelisiniz yağmur keyfiyle.
Villa Biba 1
Görkem Sırrı
ilk adımı attıktan sonra çıkmak istemiyor insan. Dünya da cenneti yaşadım bir hafta
Villa Beyaz
habibe
ev tertemiz ve oldukça rahattı, mutfakta işimize yarayacak her şey vardı. soranlara tavsiye edeceğim teşekkürler!
Villa Kaputaş 2
Arzu
Konumu güzel bi yerde sessiz sakin kafa dinlemek için uygun bir yer
Villa Kaputaş 1
Volkan
Herşey güzeldi . Çok keyif aldık.iyice dinlendik herşey görüldüğü gibi güzeldi.
Villa Değirmen 2
Bedirhan Ağca
Kaska ailesine bu güzel tatili yapmamıza vesile oldukları icin teşekkür ederiz. Güvenle gelebilirsiniz.
Can Ay
Kıs olmasına ragmen harika bir tatildi. Isıtmalı havuzun keyfini unutamam. Tekrar gorusmek uzere Kaska Villa ailesi.
Tolga tekinaslan
manzara olarak mükemmel ,ev kullanışlı sorunsuz ,herhangi bir sorunda ev sahipleri hemen ilgileniyorlar.